Cobo : The Return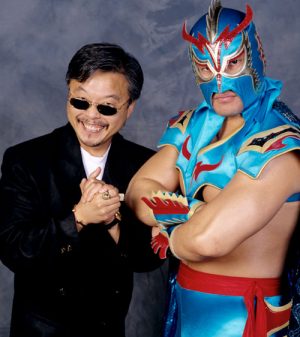 Once is never enough!
On October 13, 2018 Detroit will host the best in Michigan's independent professional wrestling at the most legendary building in Michigan wrestling history, COBO.
In 2017 XICW gathered legends to return to Cobo one more time. Those legends were honored and remembered throughout the night. Then XICW paid tribute by holding one of the biggest and best shows in Michigan's history. Stars of yesterday, today, and tomorrow all competed in front of thousands of fans from all over.
This year we return. This year it's bigger. This year we do it badder.
Already set to appear at XICW Presents Cobo: The Return is one of the most influential, world traveled, and decorated professional wrestlers over the last forty years, ULTIMO DRAGON. Dragon will be making his XICW debut along with his manager/consultant SONNY ONOO!
The Midwest Heavyweight Champion "The Zombie Princess" JIMMY JACOBS has been a part of XICW since he was just 15 years old. He recently returned and shocked XICW by winning the Midwest Title and has been successfully defending it since his return. It's only fitting that this independent legends makes his mark one of the most famous buildings in wrestling history. Who will Jacobs deem worthy of stepping in the ring for a chance at the title at COBO?
One of the biggest and baddest that has ever graced the XICW ring will be making his return to COBO, "The Monsta" KONGO KONG. Last year Kong w/ JOHNNY DELICIOUS by his side defeated and retired ZACH GOWEN. Things have changed in the last year. Kong is now on his own and more dangerous than ever. Can anyone stop the untamed Monsta at Cobo?
Also making her return to XICW and Cobo in hopes to have the same success she saw last year MERCEDEZ MARTINEZ. Last year Martinez defended her Shimmer Women's championship. This year she no longer has that title, however she's back to face anyone who wants to step up and face her.
XICW Tag Team Champions LOTUS are signed for COBO as a Tag Team. They are no strangers to the high profile show that is Cobo. Last year both competitors saw action regardless of the outcome, they now have the experience. The two have become one of the hottest tag teams on the independent scene. Winnings titles everywhere they go including most of Michigan. Whoever their opponents may be, the titles will be on the line and there will be a war.
"The Most Dangerous Man In Michigan" THE DBA is back in XICW. After recently being suspended he has been reinstated and is ready for a fight. The DBA is the heart and soul of XICW and will be at Cobo to represent his XICW family and the Monroe family name that helped build Cobo to what it is.
"The Pride and Joy of XICW" MM3, the son of The DBA grandson of "Sweet Daddy" Malcolm Monroe, will also be at Cobo. He himself will be representing the Monroe Legacy and be making a solo impact at Cobo along with his manager JOHNNY DELICIOUS. What does this duo have in store for Cobo? And how will the rest of the Kira Klan play a role?
October 13, 2018 at Cobo XICW has so many questions going in and hopefully all of the answers coming out.
Don't miss this legendary event.
More info coming soon!