GET TO KNOW:  MADMAN FULTON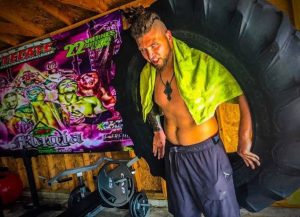 Those in attendance this past Sunday for XICW Proving Ground Season 5 Episode 6 were in for a treat.  They saw the surprise XICW debut for MADMAN FULTON, otherwise known as former NXT Superstar Sawyer Fulton.  A founding member of the Sanity group, the dread-locked dreadnought Fulton has a 6'8" 300-plus pound frame that immediately draws attention.  His in-ring abilities further lend to intimidation to all others on the roster.

Fulton is a former Greco-Roman All-American and a two-time NCAA All-American amateur wrestler.  He first started his career in 2010 and with further help from the NXT system, he has added to his wrestling skills.  Not to mention his strength, which is in full-on display once the bell rings. His dangerous side has been further sharpened by a recent alliance in MLW with Sami Callihan, which saw Fulton compete in both their Battle Riot match and a War Games brawl.

Fulton is a Toledo, OH native and now with no contractual obligations, he has made his way to XICW.  He is not a guy looking to coast on an accolade or stats, but rather a fighter ready to prove himself on his own.  He has caught the eyes of the Commissioners and XICW Warriors and has his next XICW date this Sunday in Fraser, MI.

Keep up with Fulton online via his social media:
https://www.facebook.com/madmanfulton/
https://www.twitter.com/fultonworld/
https://www.instagram.com/fultonworld/

You never know who will show up at XICW, so don't miss out when we're in action.