Warrior Rampage 2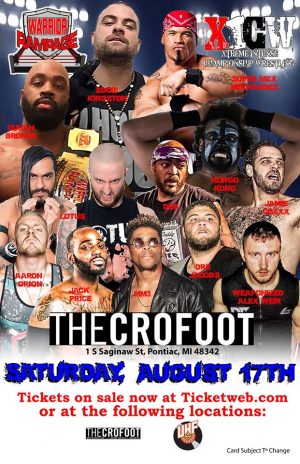 Saturday August 17th. 6 PM.
Come be part of what will be a new and exciting type of event for XICW as the most fan interactive promotion in Michigan takes this large scale event to the next level.
Midwest Championship
Mm3(c) with Johnny Delicious vs Eddie Kingston
Xtreme Intense Championship
NO HOLDS BARRED
Dre Jacobs(c) With Johnny Delicious vs Old Timer Jeff King
United States Championship
Kongo Kong(c) vs Shogun Jackson Stone
XICW Tag Team Championship
Fun Lovin' Criminals (c) vs Death Threat Army
Warrior Rampage Championship
Isaiah Broner vs "Super Mex" Hernandez
XICW Lightweight Championship
Alex Weir(c) with JD vs El Ridiculoso vs Josh Raymond vs "Aqua Bruh" Cyrus Satìn
Heidi Katrina vs Super Oprah
Jumal Kyng vs Justin Wilde (Budapest light heavyweight superstar)
Budapest Bastards vs Willie Watts & Movado
(card subject to change)
For tickets click here.