XICW Reunion Show.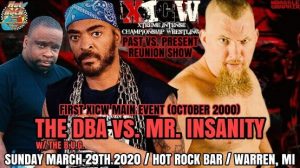 In the year 2000 XICW is a professional wrestling company that was built on Xtreme. Some of the Midwest's most violent talent has made appearances in the walls of Hot Rock Bar and Grill.
It's been 20 years since the first time XICW made Hot Rock it's home. So much has changed over the years including the name of the bar on numerous occasions, but XICW has remained the constant.
On March 29th, 2020 Hot Rock Bar will host a long awaited XICW reunion show. The past returns to meet the present of Xtreme. Our first match announcement only makes sense.
This match is one of the longest awaited rematches in our history. A match that happened on the very first show. A match that couldn't contain two of the most violent, xtreme, and deadly member of the XICW historic roster...in an XTREME FALLS COUNT ANYWHERE Match the feud is reignited as "THE MOST DANGEROUS MAN IN MICHIGAN" The DBA goes to war with "MR. INSANITY" Toby Klein.